VEXER 46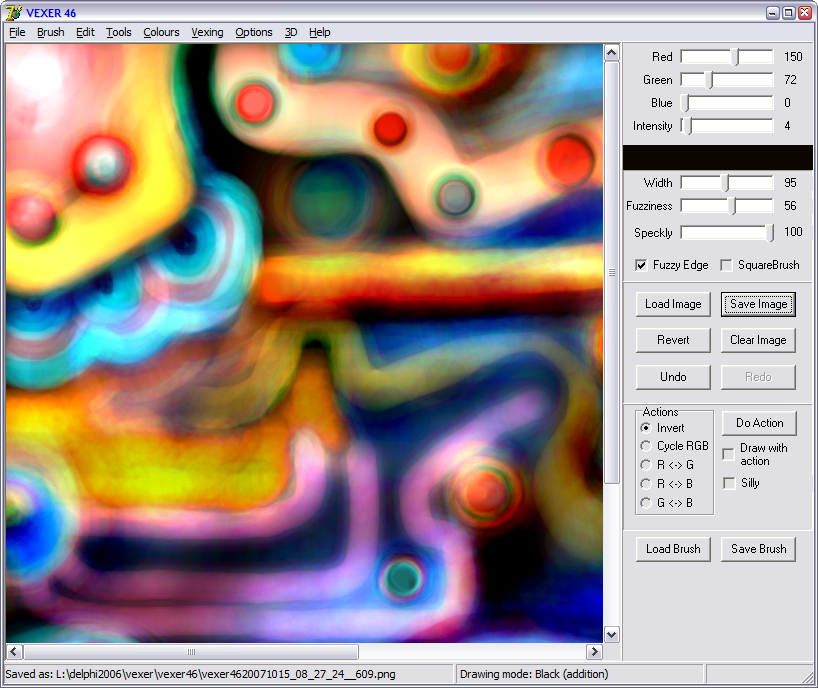 Download VEXER (576KB)
Look at some of my VEXER pictures

Some user comments
"vexer is interesting, been playing around with it for a while but i still don't understand it"
"vexer is da best"
"thanks for writing such fun programs for us all as freeware to play with!"
"Vexer 40 has a speckles features, and I love it!"
"Vexer changed my life."


Changes:

Use the I,O,P keys to switch between Normal/Random by Stroke/Random by Point colouring (46)
A user has informed me that VEXER works on Linux under WINE.
Clear the canvas with single key (ESCAPE, is undoable)
Added "speckliness" to the brush stroke "," to make less dense speckles, "." to draw denser speckles (40)
Made the canvas centered in the drawing window so you can draw into the top and left edges better (40)
The specklification of the brush stroke can be altered smoothly in the Brush Options [F2] (40)
Doubtless other trivial things
Fixed some problems with brush loading, whoops (38)
Load (F9) and Save (F10) brushes (color, width, intensity, fuzziness and the options from the Brush Options) to disk (37)
Make VEXER not forget the center of circles. Default behaviour is to always default to draw the circle centered on the middle of the screen. To make VEXER remember where it drew the last circle and center the next circle on the same point, go to Circle Options (F3) and untick "Default back to center of image?". (37)
Undoubtedly other small tidyings
Increased maximum circle pen width (34)
Minor tidying (34)
Fixed a couple of things (33)
Resize the canvas, CTRL-R (or Edit/Resize). (32)
Minor other things (32)
Added "ERASE": toggle eraser mode with "X" key, erases to either white or black depending on coloring mode. (31)
Made the scrollbars update the image as they are scrolled (31)
Clear Image now has CTRL-Q keyboard shortcut. (31)
Change the canvas size File/New or CTRL-N and specify new width and height. 1x1 -> 1600x1200. (30)
Saves as .png file format for smaller files. (30)
Loads .png and .bmp files for editing. (30)
Maximise the window to have a larger drawing space. (30)
3D Options: "F1" key to show window (30)
Brush Options: Set behaviour for the brush stroke, from start of drawing to mouse up/end of stroke. "F2" key to show window(30)
Brush Options: Set the rate of change of Intensity (only takes effect in non-3D mode)/Fuzziness/Pen Width and 3D depth (only takes effect in 3D mode). (30)
Circle Options: "F3" key to show window. (30)
Shape Options: "F4" key to show window. (30)
Fixed brush width linked with 3D depth. (28)
Updated swatch based on intensity. Remember, the color in the swatch may not be the color you draw with. It is just the color being added/subtracted. (28)
Fuzziness: The fuzziness of the pen stroke can be varied now with the "G" (less fuzzy) and "H" (more fuzzy) keys. This changes the radius of the stroke's solid core, from a point at 100 fuzziness to nearly the entire dab at 1 fuzziness. The remaining outer ring of the dab is then gradated from full value to nothing at the circumference. (28)
Pen width can go down to single pixel (27)
Intensity feature: the "1" and "2" keys, while not in 3d mode, lower and raise the "intensity" of the color being drawn by the pen, at 0 intensity the pen has no effect, at 100 intensity the result is as it is with previous versions. This allows you to easily keep the same color across pen sizes without having to adjust the rgb sliders. (27)
Saves settings in .ini file (26)
Change the 3d pen strength while drawing, red and blue together with "1" (weaker) and "2" (stronger) keys. (26)
3D pen strength in 3D options (24)
Anaglyph 3D drawing mode (23)
Change the depth of the stroke with the "E" (move away from you) and "R" (move toward you) keys (23)
Option to link the pen width to the depth, i.e. make the pen smaller as it gets further away etc. (23)
Toggle 3D drawing mode on/off with the "3" key or via the menu item (23)
Circles changed a lot: "C" shortcut key now draws circle (22)
Circles: Right click on the image now also sets the position for the center of a circle. If you right click, to set the center, and then right click again somewhere else VEXER will, as ever, attempt to join those points together. The second point can be used as the center of a circle. When a circle is drawn, the center is forgotten, so you will have to right click somewhere else if you want to position another circle. If you don't, the circle will appear centered at the center of the canvas, as before. (22)
Circles: You can now access "Circle Options" form, which allows you to set various properties of the circle. Number of points to draw around the circle, the circle's width/height (maybe it shouldn't be called a circle if these are not the same), the pen width for the circle (which can be set independently of the pen you draw with). (22)
Kill button returns, for clearing any points which have been set by right clicking on the canvas. (22)
Button for toggling drawing mode returns. The current drawing mode is displayed in the status bar. (22)
Flipperiness: this slider goes from not very flippery to totally flippery (21)
Section Length: makes the automatic drawing more close fitting as the section length is shorter. (21)
Semicircles: makes the automatic drawing join each step of its journey with a semicircle rather than a straight line. (21)
Removed the additive/subtractive coloring method button, toggle coloring mode with "Z" key, midstroke also. (21)
Square brush option (19)
Outlines of brush for easier sizing/placement (19)
Real time resizing of brush with "A" (make smaller) and "S" (make bigger) keys - even while drawing! (19)
Toggle Square/Circle brush with "Q" (circle) and "W" (square) keys (19)
Toggle Fuzzy edges with "F" key, again even while mid-stroke (19)
Silly drawing methods of snazziness :| (18)
Toggle between "hard" and "fuzzy" edges to pen (18)
Snazzy drawing methods (17)
One level undo/redo (CTRL Z , SHIFT CTRL Z) (16)
You draw with VEXER with the left mouse button, but you can click on the canvas with the right mouse button and VEXER will try and draw some lines itself.
Width: sets the width of the pen or line
size/points/random shape/many/change colors/flipper all can be experimented with at your leisure, these are relating to VEXER's automatic drawing.


VEXER is written with Borland Delphi and developed on Microsoft Windows XP.

If you enjoy this program and would like to give me some money, use this lovely button below.

Page last updated: 30-September-2007