Djuhn 022 - 16 February 2008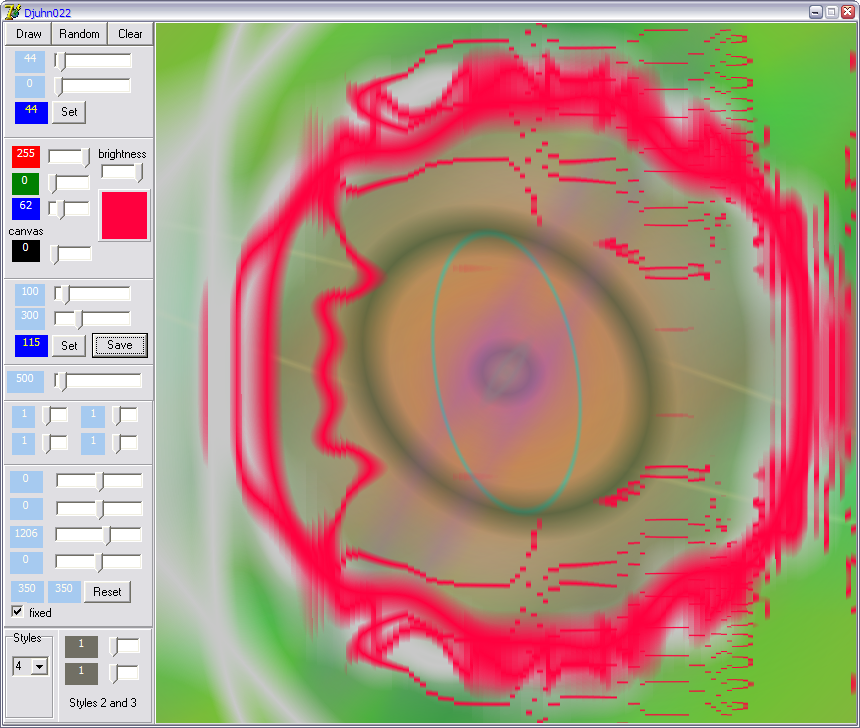 download djuhn022

djuhn022.zip md5 checksum: 143e90d9cb21e0dcf8da8387823b45cf
The zip file contains just djuhn022.exe.
Download and extract the .exe file and save it to your preferred folder.
Djuhn will save all of its output to this folder.



Look at some of my work
Look at some more of my work

Some user comments
"I just used the random generator, I think. I don't know what I did. I just moved sliders and hit buttons."
"It's fun. I haven't figured out how to "control" it."
"Fiddle with Djuhn until it gives you something you like. This, as you know, is the hard part :D"
"Djuhn. Haven't the faintest idea what anything does yet... "
"I have little idea as to what I'm doing, but damn it I'm having fun doing it! "
"a sweet little freeware program"



Changes in 022: (please email me about any problems you have with it)

Added "Draw" button for drawing with current settings
Added hint tooltips on many controls
Added some new "styles"
Show other people your Djuhn creations at the Djuhn group on Flickr.com!
Check out my Flickr.com photostream for many lovely Djuhn pictures :)

Djuhn is written with Borland Delphi and developed on and for Microsoft Windows XP.
If you enjoy this program and would like to give me some money, use this lovely button below.


Page last updated: 16 February 2008