Chrest 5 - 16 Oct 2011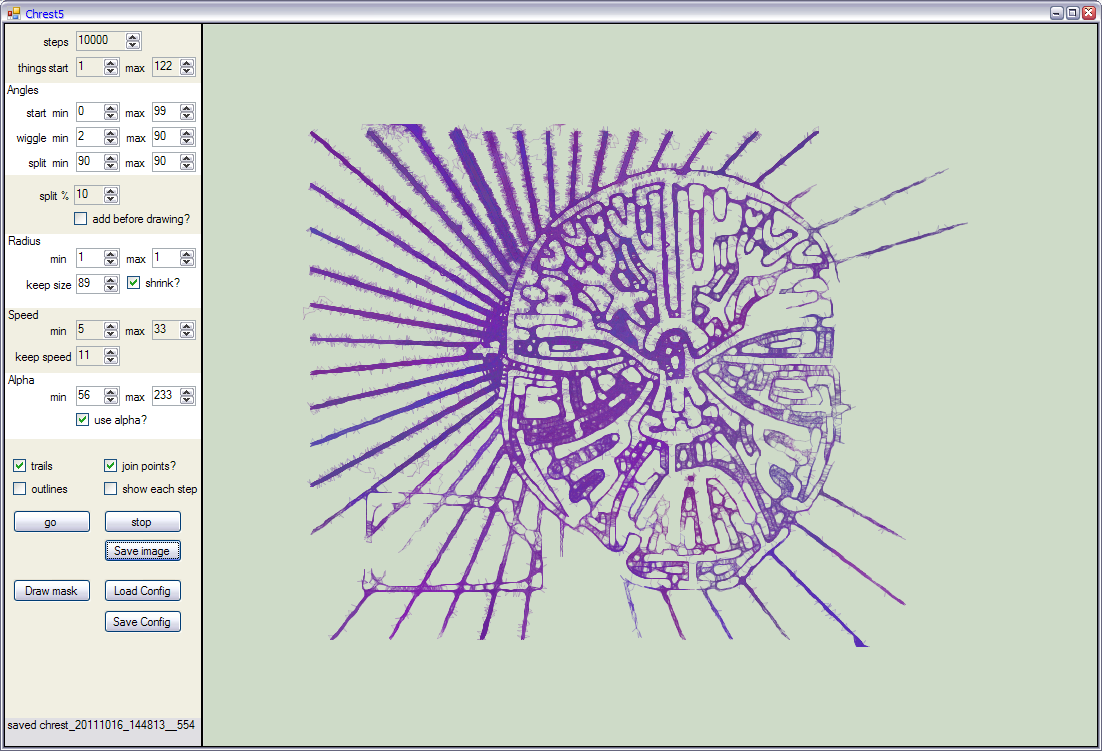 chrest5d.zip md5 checksum: E2101DA77666F1865414E779932C12C4
The zip file contains the chrest5.exe only.
Download the zip archive, extract the .exe file and save it to your preferred folder.


Changes in 5:

added min and max "wiggle" angles, so the user can choose how much each splodge wiggles at each step from its starting angle
added min and max speed, radius and alpha, so the user can choose the upper and lower limit for each
tidied up some of the configuration saving code
made some cosmetic changes to the user interface and sorted out the tab indexes a bit
Changes in 4:

added min and max start angles, so the user can choose the direction the things start heading in (a bit)
added saving of config/settings, this can be done by the user whenever they want. Configs are also saved when chrest exits, and when chrest saves an image.
added ability for user to choose where all these things are saved to and loaded from
added some status messages, to let the user know what is going on a bit more
Changes in 3:

Added "Load mask" function, allows user to load a bitmap as a mask (probably needs some more work on)
Changes in 2:

Added "mask" function, allows user to draw (in a rudimentary way) areas that chrest should avoid drawing in (to some degree)
Added version number in form title
Added some hourglass cursors - when saving image, and when processing the new mask
Changes in 1:

It basically draws splodges, moves them around, and according to some random chance (split %) a splodge may split into two splodges that then move independently thereafter.
You can start with a various number of splodges, change how wild their direction changes, and the number of steps of movement the splodges travel.
You can set the maximum number of splodges that are spawned, and you can then save the image you made with the "save image" button into c:\temp (not configurable at moment).
As always this program comes with no warranty, no help, no charge and it was developed in c# on windows xp.


Chrest is written in C# and developed on and for Microsoft Windows XP.
Although, I have been told that it runs on Ubuntu 11.04 (natty) with Kernel Linux 2.6.38-11 and Gnome 2.32.1 using mono from an xterm command line. (thanks s,B -)
If you enjoy this program and would like to give me some money, use this lovely button below.